Conway+Banks 10DS Goalie Bag
Regular price
$229.00
Sale price
$269.00
Free Shipping to all of US and Canada
⭐⭐⭐⭐⭐ Beloved by players in 29 countries
🏆 Unbeatable industry-best 180 day warranty
🍁 Designed, approved, and tested by players and coaches in Canada
💎 Rugged waterproof tarpaulin, YKK zippers, super duty straps and rivets
Winner: Best Hockey Bag
180K Youtube subscribers
⭐⭐⭐⭐⭐
This bag emcompasses all of the best elements of all the hockey bags I have looked at previously, and combines them into 1 bag: organization, storage compartments, durability, breathability, and price.
Benefits

Be rough, it's made with ultra durable waterproof poly tarpaulin
Keep your feet clean using the bacteria resistant foot mat
Stay organized using the included dividers
Bright padded yellow base helps you find all your gear
Keep your gear dry with the water resistant padded base
Removable laundry bag for your base layer

Giant vents on each side reduces moisture and bacterial build up
Jersey pocket accessible when bag is opened or closed
Comfortable ultra heavy duty shoulder strap
Heavy duty pull handles on each side for easy lifting
Super strong rivets and zippers help make this bag last
Large U shape opening for easy access

Dedicated pockets for your tape, phone, keys
Great for other sports, like skiing, snowboarding, baseball, and football
Wheel bags feature PVC tank wheels + aluminum handle assembly
Size Guide

Our Goalie Bags are approximately 42" in length. They can fit a full set of senior gear with leg pads inside if dividers are removed - great for travel.
Youth and junior goaltenders should downsize to Senior L/XL 36" bag instead.
Hassle-free Returns

100% Satisfaction Guaranteed

If you are not 100% satisfied with your hockey bag, return it within 15 days of receipt in new condition for a refund or like-for-like exchange.

Size Exchanges

We recommend reviewing the dimensions of our hockey bag and comparing it to your current bag to best estimate your size needs. We are able to provide you with a size exchange, however, we do not provide return shipping labels for shipping of product back to us. Garments are made to order, and are non-returnable.

Defects

From time-to-time, manufacturing faults can and do occur. If you think your product has suffered a manufacturing fault or damaged while in transit, please contact us at hello@conwayandbanks.com so we can help make it right. Items that are damaged due to abuse are not considered faulty.

Returns Process

For hockey bag returns, simply send us an email at info@conwayandbanks.com along with your order number and request. We will respond to you promptly with detailed instructions tailored to you. We can provide a shipping label for returns. Refunds are made in the original form of payment, minus $25-35 shipping fee, plus any applicable duties levied on the returned item. Product refunds will be made upon receipt and inspection of the returned item, usually within 48 hours of receipt.
180 Day Warranty

All our hockey bags are covered under industry-leading 180 day (6 months) warranty. While most of our competitors only offer 30-90 day warranties, we stand behind the quality and craftsmanship of our bags with an extra long warranty.

Should you have any concerns about your bag, simply send us an email at info@conwayandbanks.com with:

Description of defect
Photo of the defect or part requiring replacement
Full name and/or order number
If it's past the 6 month warranty, no sweat. We will do our best to help you in any way we can. Just shoot us an email.

Warranty for Team bags - While Team, University, and Professional organization orders are excluded from this warranty, we will do everything we can to supply you with replacement parts where possible, or recommend a repair center if applicable.

Replacement Parts - At our discretion, we may provide you with replacement components for higher-wear parts at no cost to you. Simply write us an email at hello@conwayandbanks.com
Shipping

All hockey bags are shipped from Canada or US.

Standard ground shipping is free for bag orders within Canada and US.

While most orders reach our customers within 2-5 business days, it may take up to 7-10 days depending on your location. We do ship world-wide, deliveries outside of North America ship by air and typically arrive within 7 days but may take up to 2 weeks. There is a shipping fee for orders outside Canada and US.

Our shipping partners include but are not limited to: FedEx, UPS, DHL, Canada Post, USPS, Purolator.

All hockey bags are shipped in corrugate boxes.

We do not charge customs, duties, or VAT on your orders at time of purchase.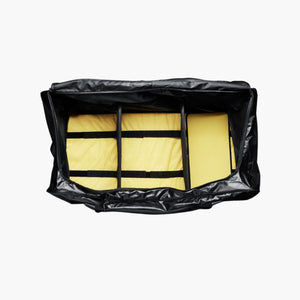 Removable Dividers
Keep everything where you expect it. Remove dividers and fit leg pads in here too - perfect for travelling.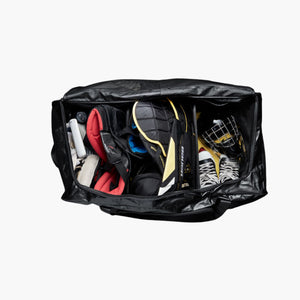 A Home For Everything
Gear up without having to hunt for everything. Your pregame ritual cannot be interrupted.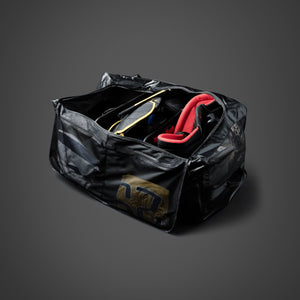 Double Jersey Pockets
Keep your Home/Away separate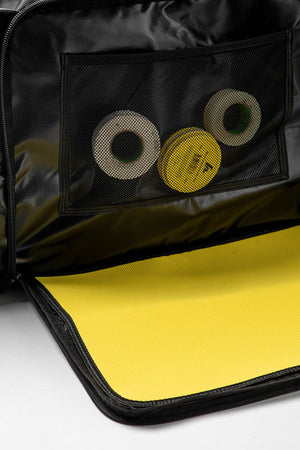 Stay Clean
No more stuffing that nasty mat into your bag. Unzip the bacteria-resistant Cleantech™ foot mat and change in comfort.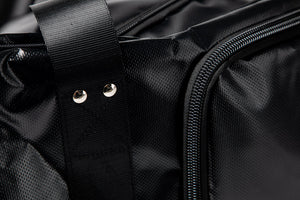 Quality Materials
Hand-picked materials, industry-best 6 month warranty and amazing customer service.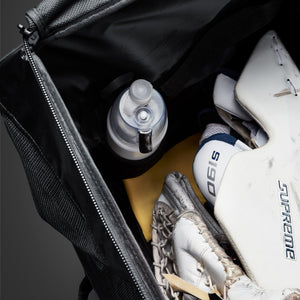 Attention to Detail
Storage for your water bottle, keys, phone, tape, base layers, and lucky charms.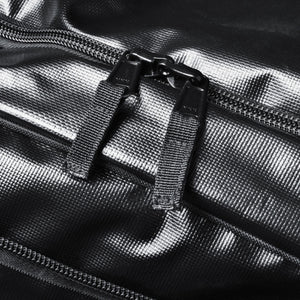 Safe Travels
Heavy duty YKK zippers with luggage lock holes - perfect for travel.
I love my new goalie bag, having the flexibility of adding in dividers for everyday use and removing them to fit leg pads in when traveling is a game changer!
Derek H.
This is such an amazing upgrade from my old bag which was just a massive sack with a zipper. I didn't think I'd appreciate all the features like vents and foot mat until I tried it. Now I'll never go back.
Adam C.
Where was this when I was a kid? Bags have come a long way then! Way lighter than those bulky tower bags and much easier to fit into my trunk.
Nigel P.
Real Hockey Players Love This Bag
Chris Kibui - Hockey Tutorial
180k Youtube subscribers
⭐⭐⭐⭐⭐
This bag emcompasses all of the best elements of all the hockey bags I have looked at previously, and combines them into 1 bag: organization, storage compartments, durability, breathability, and price.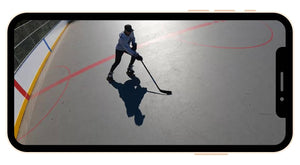 John Schiavo - 3ice, ECHL, IIHF World Inline Champion
23k Instagram followers
⭐⭐⭐⭐⭐
We're travelling all over the world with these bags...they're so durable. This bag has taken an absolute beating and it still looks almost brand new!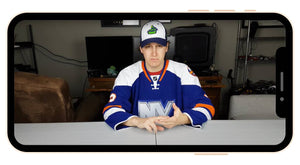 Matt Hill - Hockeyreviews.ca
10k Youtube subscribers
⭐⭐⭐⭐⭐
This player bag has honestly been my favourite bag I've ever used for hockey gear...The footmat is a brilliant idea!
What is unique about Conway+Banks bags compared to other hockey bags?

Conway+Banks bags are designed with player needs in mind. The combination of massive ventilation vents on each side of the bag, along with interior compartments allow all equipment inside to get great airflow while making the gear easy to find when you're getting ready for the big game.
What's included with each bag?

Every hockey bag comes with a set of removable dividers, laundry bag, and of course the bag itself. All bags come with our standard industry-best 180 day warranty, no registration required.
Are Conway+Banks bags any good?

Our bags are hand-made, and crafted with carefully chosen premium materials. Since bags is pretty much all we do, you can be confident we don't have an intern working on this as a side project. Our bag was originally designed with the help of 50 players and coaches, and we have since improved on it with feedback from thousands of customers!

All Conway+Banks hockey bags are backed by industry-best 6 month warranty, three times longer than most companies!
Where do you ship to? How much will it cost?

We offer shipping worldwide for all our hockey bags. Customers in Canada and US get free shipping (including Hawaii, Alaska, and military bases). Shipping fees are calculated at checkout for all other countries.
Does the bag work for all positions?

We have designed separate bags for players, goalies, and coaches based on the unique needs of each!
What if my child outgrows their bag in the next 2 years?

Our Junior Upgrade Program allows you to save 20% when upgrading from our junior bags to a senior sized bag within 2 years of purchase. Simply write us an email with your request and original order number.